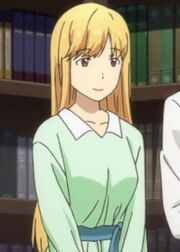 Keiko Arima (有馬 恵子, Arima Keiko) is the wife of Kodai Arima and the biological mother of Takuya Arima.
Etymology
The name Keiko means "favor, benefit" (恵) (kei) and "child" (子) (ko).
Keiko's surname Arima means "exist" (有) (ari) and "horse" (馬) (ma).
Trivia
Keiko makes only one in person appearance in the series outside of the final episode. She briefly appears when Takuya is trapped in the cave together with Mio.
Gallery